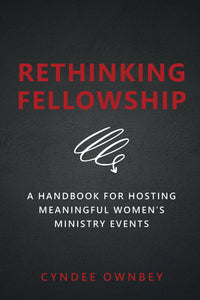 Planning women's ministry events that attract women of all ages, encourage community, and focus on our faith is a challenge!

There are so many things you 
could
 do, how do you decide 
what
 to do? 
Rethinking Fellowship

 
will break through the overwhelm of event ideas and teach you how to select the best ideas for the women in your church.


Rethinking Fellowship
 will help you:
Apply fellowship principles modeled by the early church in Acts 2

Determine which types of fellowship events your ministry needs

Create an effective framework for women's ministry fellowships and meetings

Select décor, door prizes, and devotionals that point women to Christ

Rethink your fellowship format so it also encourages discipleship
Having planned church events of all sizes for over twenty years, Cyndee has discovered the secret to hosting meaningful women's ministry meetings that women want to attend. She'll inspire and guide you through the planning process with hundreds of event ideas.