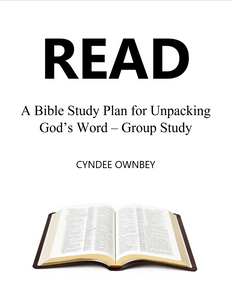 Does your group struggle to study the Bible on their own?
The READ Bible Study was created to:
Increase Biblical literacy
Build confidence
Create community
Your group will learn how to dig into God's Word as they read an entire book of the Bible together.

The READ Bible study method removes the obstacles that keep women from reading the Bible on their own and builds each woman's confidence.
Women love the weekly discussion groups! They learn from each other as they discuss each week's homework. 
The READ Bible Study for Groups includes:
READ Workbook for Groups - Everything your women will need to learn how to READ the Bible, resource lists, definitions, explanations, worksheets, and more.
Group Facilitator Handbook - Including group management strategies, prayers for your group, first day tips, timing the lesson, and more.
How to Host the READ Study in Your Church or Community - Sample schedules, the first day, how to recruit discussion group facilitators, dividing women into groups, and more.
Digging Deeper: Lessons, Activities, and Resources - Ten lessons & activities, printable worksheets, assessment materials, Bible study information cards, and more.
You can view a sample of the READ Bible Study for Groups here.
What women like about the READ Bible Study format: 

"I can take it and apply it to any book of the Bible."
"I had to think and pray so I could know what God had for me not what someone else thought."
"I liked that I was in charge of the information so to speak. I was able to seek out reputable sources and pull from different areas instead of listening to one person's interpretation of what the passage meant."
"It made me get more involved in the Bible study."
"Absolutely love it. It gives me steps for more clear understanding... I'm learning so much and seeing things so differently."
Churches across the country are using the READ Bible Study format.
"As a leader, I have found it so much easier to facilitate than a printed study by another author because I don't have to vet the author first, it costs a lot less money, and I really don't have to do much additional prep outside of the regular lesson. We are all learning from each other so it takes much of the pressure off me." - Jewel Most, Women's Ministry Leader
Download Information: Please download this item immediately after checking out. There will be a download link on the checkout page. You will also receive an email with download links for your digital purchases. 
Frequently Asked Questions:
How many copies can I make? You can make unlimited copies for as many groups as needed. If you decide to use the READ Bible study for Groups with another group, two years down the road, you do NOT need to re-purchase the study.

How do we decide which book of the Bible to study? I recommend starting with a shorter book of the Bible for the quick win. I address this question more completely in the How to Host the READ Bible Study for Your Church or Community ebook.

What is the format of the READ bundle? These books are eBooks – you will not receive a physical copy. You will download the files after you check out. Please save a copy of each PDF one on your own device.

What size group(s) do you suggest for the READ Bible study? The READ Groups format is best suited for groups of 5 or larger. I recommend that you divide larger groups into smaller discussion groups of about 10-12 members. You could use this study one-on-one for mentoring or discipleship, however, you may want to purchase just the READ Bible Study Workbook instead.

How long should our Bible study meetings last? You will need at least an hour for your group to have enough time to work through all of the discussion questions. The books include a sample schedule for 1 hour, 1 1 /2 hour, and 2 hour Bible studies.

How much time does it take to complete the homework? Most of our women were able to easily complete the homework in about 15-20 minutes per day. Our women really liked being able to choose how and to what depth they could complete their homework. Some chose to knock it out in one sitting, while a few spent several days digging into different commentaries.

What other materials are needed for the READ Bible study? Participants will need just 4 things: a Bible, a copy of the READ Workbook, access to a commentary, and access to another Bible translation. Free online resources for commentaries and translations are listed in the READ Workbook.